Employment termination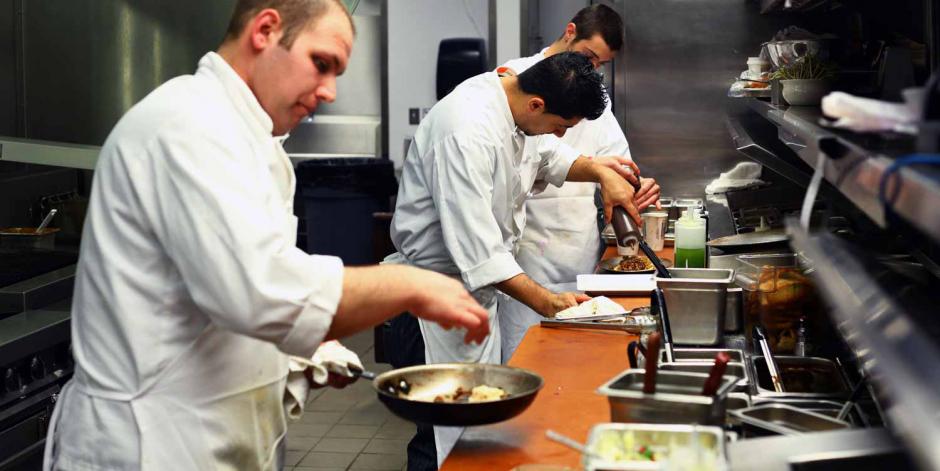 COVID19 pandemic has modified many of the current regulations. Please visit https://www.calrest.org/coronavirus-resources for the most up-to-date changes and emergency regulations.
Reminder: CRA Members receive 15 minutes of free legal advice per month. To set up a call with one of our legal partners, please call 800.765.4842 ext. 2743 or email helpline@calrest.org.
Due to the COVID-19 pandemic, this Industry Insight has additional updates.
View COVID-19 updates to this Industry Insight
Terminating an employment relationship is never easy. Many people fail to appreciate how personally and legally difficult separating someone's employment is for an employer.
While the CRA cannot provide tips on how to ease the personal difficulties involved with terminating an employee, this article does provide guidance on some of the legal implications and issues that may arise in the termination of an employment relationship.
At-will employment
Under California law, there is a presumption that employees are "at-will" unless otherwise stated. At-will employment means that either the employee or employer can terminate the employment relationship at any time, with or without cause. "With or without cause" means that a lawful termination can be executed for a good reason, a bad reason, or even no reason—as long as there is not an illegal reason.
The presumption of at-will employment can be altered if the employer provides either an oral or written contract that states the employee will only be terminated for "good cause" or that the employee is guaranteed employment for a specific time period. The law will also imply that an employment was not at-will if the employer made representations or promises to the employee during the employment period that he or she would only be terminated for good cause. For example, if an employer represented to an employee that he or she would always have a job with the employer if he or she continued to do good work, the law may infer that this statement altered the at-will presumption and that the employee could only be terminated for good cause.
Due to the fact that an at-will employment relationship can be easily altered, it is wise for employers to repeat throughout all written materials, such as job applications and employee handbooks, that employment for all employees is at-will and can only be changed by a written document signed by the owner or president of the company.
Termination for illegal reasons
As noted above, at-will employment can be terminated for good reasons, bad reasons, or even no reason at all. In some cases, termination of employment for a wrong reason is acceptable, such as when the termination of an employee is based on facts that turn out later to have been incorrect. But to prevent at-will employment from insulating employers from otherwise unlawful conduct, California law does not permit employers to discharge employees for illegal reasons. That is, terminations of employment in violation of public policy will not be accepted and can lead to liability and damages.
Terminating an employment relationship because an employee engaged in a legally protected activity or possesses a legally protected characteristic may expose the employer to claims for wrongful termination, discrimination and retaliation. Examples of protected activities/characteristics that cannot be used as a basis or motivation for terminating even an at-will employment relationship include, but are specifically not limited to, the following:
An employee's race, color, religious creed, gender (including gender identity and gender expression), sexual orientation, marital status, age, national origin, ancestry, physical or mental disability, medical condition (including cancer or a record or history of cancer, and genetic characteristics), sex (including pregnancy, childbirth, breastfeeding or related medical condition), genetic information, military and veteran status.
Participation in protected union organizing activity.
Exercise of a legal right provided by state or federal statute, such as refusing to accept less than minimum wage or "whistle-blowing" on an employer who is violating the law.
Reporting unlawful harassment, discrimination, retaliation, or various violations of law or policy (e.g., reporting bribery or kickbacks); including when family members of employees engage in these protected activities.
Requesting a reasonable accommodation or a modified work schedule because of an actual or perceived disability, or a religious belief.
Taking leave authorized by federal or state law.
Discussion of wage rates by employees.
Service on a jury.
Engaging in protected political activity, including any such activities pertaining to sexual orientation.
Performing military service.
Filing a worker's compensation claim.
Refusal to commit an illegal act (for example, a retail sales manager had a protected right to refuse to fire a sales associate when she considered the reason for the termination to be discriminatory), or an act that the employee reasonably believes to be illegal even if it turns out the employee is incorrect.
An order garnishing an employee's wages (first order).
Refusal to submit to a polygraph test.
Enrollment in an adult literacy program.
Joining a drug or alcohol rehabilitation program.
Engaging in legal activities off work premises and outside of work hours.
Because there are so many potential "illegal reasons" for termination of employment, employers should rightfully be concerned about over-reliance on the at-will employment presumption to protect against claims for disgruntled former employees. Thus, while an employer can, in theory, terminate employment for arbitrary reasons, as long as they do not affect a protected activity, most employers do not discharge employees unless they are able to articulate a reasonable, good-faith legitimate business reason for termination that is not affected by any protected activity.
Negligent retention – The Employer's Catch-22
While an employer cannot terminate an employee for the wrong reasons, the employer should not permit concerns about potential claims to justify continuing to employ an employee after that employee has displayed violent or dangerous propensities. Under the law, an employer can be held liable for the negligent hiring or retention of an employee who the employer knew or should have known had dangerous or violent propensities that could harm other coworkers or third parties.
It is always a good idea to have an established process for disciplining employees. However, the disciplinary process should provide the employer with flexibility to discharge immediately if the situation warrants it. This process should include written documentation, including witness statements, and details of the discipline. Further, this process must be administered even-handedly and consistently.
A leading example of an employer's potential liability for negligent retention is illustrated by case law. In Heiner v. Kmart, a customer filed a lawsuit against defendant Kmart Corporation for several causes of action, including negligent hiring and retention. After a customer engaged in an argument with an employee of the Kmart Corporation about a refund, a security guard tackled the customer, causing the customer to suffer physical injuries. Prior to this incident, the security guard had physically "grabbed" and assaulted several other customers who were suspected of shoplifting. The store manager for the defendant admitted that he had been concerned with the security guard's appearance and demeanor. The customer in this lawsuit prevailed in part as a result of Kmart Corporation's failure to properly investigate and discipline the security guard's prior behavior.
Immigration status
Particular attention must be paid to the immigration status of employees, especially in today's volatile political climate. While employers can and must ensure that they are not employing people who do not have a legal right to work in the United States, they must be consistent in checking employees' eligibility, and careful to avoid using immigration status as a "pretext" for unlawful termination. A federal court has upheld a California jury verdict granting more than a million dollars to an employee because the employer used immigration status as an excuse for a wrongful termination.
Final payments
What if an employer terminates an at-will employee?
If an employee is involuntarily terminated from his or her employment, the employer must provide that employee with all earned and unpaid wages immediately. This includes any earned overtime pay, as well as all unpaid benefits including earned but unused vacation.
What if an employee quits or resigns?
If an employee resigns without notice, an employer must pay that employee all wages owed within 72 hours. If the employee has given the employer 72 hours' previous notice of his or her intention to quit, the employee is entitled to his or her wages on the final date of employment. If an employee quits without providing at least 72 hours' notice, the employee is entitled to receive payment of wages by mail if he or she requests and designates a mailing address. The date that the check is mailed is considered the date of payment. The employer should document any request by the employee to mail the check.
If an employer fails to pay wages to an employee who has been terminated or resigned in the timely manner described above, the employer will be required to pay statutorily imposed penalties. California Labor Code section 203 provides that for each day an employer fails to pay an employee his or her final wages, the employer will have to pay the employee one day of wages at his or her regular rate of pay. This penalty continues for up to 30 days. Where the penalty continues for the full 30 days, the employer could end up owing a month's compensation, which oftentimes eclipses the amount of an employee's final pay.
Final notice requirements
When an employee resigns or is terminated, the employer is required to provide that employee with certain notices regarding that employee's benefits. Below is a list of the required notices.
Unemployment insurance: State law requires employers to give written notice to employees who are discharged, laid off or placed on a leave of absence regarding their potential right to benefits under the unemployment insurance program. Employers can use the Employment Development Department's pamphlet "For Your Benefit, California's Programs for the Unemployed, form DE 2320." This notice must be given no later than the effective date of the termination or resignation.
In addition to providing information regarding unemployment benefits, the employer must also provide the employee with written notice regarding the employee's change in status. This written notice must be provided no later than the effective date of termination or resignation, and must include:
the name of the employer
the name of the employee
the social security number of the employee
whether the action was a discharge, a layoff, a leave of absence or a change in status from employee to independent contractor
date of the action
COBRA notification: The federal Comprehensive Omnibus Budget Reconciliation Act (COBRA) requires employers (other than churches or the federal government) with 20 or more employees to notify employees who have resigned or been terminated (for anything other than gross misconduct) that they have the right to elect continued healthcare coverage for themselves and their covered dependents for up to 18 months (in some cases, 36 months). This notice should contain a packet of information that explains how COBRA works, what it covers and who is responsible for the payment of insurance premiums.
Health Insurance Premium Payment program notice (HIPP): HIPP is a program in which the California Department of Health will provide health coverage for an individual with a high-cost medical condition. If an employee resigns or is terminated, the employer must provide information regarding HIPP along with the COBRA notification. The notices are available from the Department of Health Services. The CRA also offers a copy of the notices for free to members; call the Member Helpline at 800.765.4842.
Special Notices Required for Large Employers/Facility Closings and Layoffs
In 1988, Congress passed the federal Worker Adjustment and Retraining Notification Act (WARN), which requires employers who employ 100 or more full-time employees to provide 60 days' advance notice before implementing any massive layoffs or closings of any plant and/or facilities. In true form, California enacted its own version of the WARN Act in January 2003, which is now encapsulated in Labor Code sections 1400-1408. The California version requires employers to provide the same notice under the federal WARN Act, in addition to other duties. Specifically, the California version of the WARN Act applies to employers who have employed at least 75 employees within the last year, and requires the employer to provide a 60-day notice to its employees, the EDD, the local workforce investment board and the chief elected official in the city or county government, of any mass layoffs, relocations or terminations.
The California law defines a mass layoff as a layoff during any 30-day period of 50 or more employees. A "termination" is defined as any substantial cessation of commercial operations in a covered establishment and the term "relocation" means the removal of all or substantially all of the commercial operations of a covered entity to a new location at least 100 miles from the original location. Under the Federal WARN Act, an employer must provide 60 days' notice for a "plant closing."
The term "plant closing" is defined as:
A permanent or temporary shutdown of a single site of employment if the shutdown results in a loss of employment for 50 or more workers, excluding any part-time workers;
A shutdown that results in an employment termination other than a discharge for cause, voluntary departure or retirement;
A layoff exceeding six months; or
A reduction in an employee's hours of work by more than 50 percent in each month of any six-month period.
The notice that the employer is required to provide under both federal and California law must contain:
The name and address of the employment site;
A statement as to whether the layoff is permanent or temporary;
The expected date of terminations or layoffs;
Whether bumping rights exist;
The names and job titles of affected employees; and
The name and contact information for the company representative who should be contacted for further information.
Exceptions to notifications under California law: A faltering company may avoid giving plant closure (but not mass layoff) notice if:
It has been actively seeking capital or business at the time the 60-day notice was required;
There has been a realistic opportunity to obtain the financing or business sought after;
The employer can show that the financing or business sought, if obtained, would have enabled the employer to avoid or postpone the shutdown for a reasonable period of time. State law requires employers to produce documentation of their efforts to seek capital or business and declare the accuracy of such documentation under penalty of perjury; and
The employer can show that it reasonably and in good faith believed that giving the required notice would have precluded it from obtaining the needed capital or business.
The exceptions for providing notification under the federal WARN Act are similar to the exceptions provided under California law, except that the federal WARN Act does not require the employer to provide documentation of its efforts to obtain capital. The federal WARN Act also provides another exception to the notice requirement if the layoff, plant closing or relocation was caused by business circumstances that were not reasonably foreseeable 60 days before the events occurred.
Penalties for failure to provide notice under WARN and Cal-WARN: Employers who violate must provide back-pay and benefits to each affected employee for each day of the violation, up to a maximum of 60 days. The amount of the penalty is based on the amount of notice an employer gives; an employer who gives 20 days' notice will face only 40 days' liability. An employer may also be liable for a civil penalty of $500 per day for up to a maximum of 60 days for failing to comply with the notice requirements under the federal WARN Act and California law. If a lawsuit is filed against an employer for failing to comply with the requirements under federal or California law, the prevailing party of that lawsuit is entitled to "reasonable" attorneys' fees.
Short-term layoffs
Employers who are considering short-term layoffs may be able to take advantage of the work-sharing program provided by the Unemployment Insurance Program. The work-sharing program was enacted in 1978 to assist both employers and employees during hard times. The purpose of the program is to eliminate the need for employers to lay off employees. The program allows employers to simply reduce the hours their employees work, and the employees collect unemployment insurance benefits during the period in which their hours are reduced. This program relieves the financial burden on both the employer and employee. It also eliminates the need to terminate or lay off employees. While the program raises an employer's UI rate, the increase is usually far less than the cost of a full-scale layoff.
In order to qualify for this program, an employer must have a minimum of two employees who comprise at least 10 percent of the work force or a unit of the work force affected by the reduction in hours or the potential layoff. The potential reduction in hours must be at least 10 percent of the employees' regular hours. In order to apply for this program, the employer must complete and submit the Work Sharing Plan Application EDD form. For details regarding this program or whether your company qualifies for this program, call the EDD Contribution Rate Group at 916.654.7795 or the EDD Special Claims office at 916. 464.3300.

This report was reviewed in 2020 by Weintraub | Tobin. Weintraub | Tobin provides this information for general informational purposes only. The information is not, and should not be relied upon or regarded as, legal advice. No one should act or refrain from acting on the basis of such content or information, without first consulting with and engaging a qualified, licensed attorney, authorized to practice law in such person's particular jurisdiction, concerning the particular facts and circumstances of the matter at issue.