Health Insurance
Important Update: MediCal Redetermination
Employers, you may have team members who are losing MediCal coverage this year due to a federally-mandated eligibility review. Our free service helps your team members find individual and family health insurance plans that work for them. Learn more at hospitality-health.com/cra.

Exclusive Health Care Discounts from UnitedHealthcare
UnitedHealthcare offers the following health care discounts for CRA members:
Up to a 5% discount on manual medical rates for fully insured groups with 101 or more eligible employees.
An annual invoice credit of up to 5% on administrative fees for new ASO medical products for self-funded groups with 100 or more eligible employees.
Up to a 5% discount on specialty benefits (dental, vision, life, disability, accident and critical illness) for fully insured groups – in addition to all other discounts including bundling benefits programs.
For more information, please contact the CRA Helpline at helpline@calrest.org.

HealthiestYou by Teladoc
Those with working staff members who do not have health insurance. Access to telemedicine is an ideal way for employees to manage and address health concerns with a doctor from the privacy and safety of their own home.
Those with furloughed staff that the business intends to bring back following the reduction in business or temporary closure as a way to help these employees and maintain goodwill during this difficult time.
HealthiestYou from Teladoc will be offered at a members-only negotiated price of $9 per employee per month ($9/mo includes employee + entire family) with $0 copays.
Includes general medicine, mental health, dermatology, back pain and expert medical opinions.
A great way for employees to meet virtually with a health professional to determine if their symptoms require leaving the house to go to a crowded clinic, urgent care or ER.
Virtual visits are offered through employers who may choose to cost-share with their employees.
Learn how you get your time back with HealthiestYou
HealthiestYou New Group Setup Form
Have questions about HealthiestYou by Teladoc? Check out the HealthiestYou Group Requirements FAQ PDF.
For more information, please visit the NRA's Restaurant Healthcare HQ Telemedicine page.
Employers, are you looking to offer your employees a program that doesn't require employer contribution? Check out the Teladoc for Employees here.

NEW: Individual + Family Health Insurance
Now available for CRA members, your part-time and full-time team members can access affordable personal health insurance. The Affordable Care Act/Exchange plans cover pre-existing conditions along with a list of essential health benefits. Through this program, your employees can:
Speak directly to licensed agents and receive quotes from multiple insurance companies.
Access any qualifying federal subsidies as part of the enrollment process.
Immediately enroll in medical, dental, vision, life, disability, and Medicare coverage programs.
Individual & family plans require no employer participation or contributions.
Click here to learn more www.hospitality-health.com/CRA or call (855) 607-1323.
I Missed My State's Open Enrollment Deadline. Can I Still Get Healthcare Coverage?
Don't worry! If you missed the enrollment deadline, you have options:
You may qualify for a Special Enrollment Period (SEP) that will allow you to apply for health insurance if you have experienced a qualifying life event. Qualifying life events can include:
A change in your home address
The loss of health insurance through a job or aging out of a parent's policy at age 26
Household changes such as marriage, divorce, a death in the family, or having a baby
You have 60 days to enroll in a plan if you qualify for an SEP. But, if you miss that 60-day window, you will have to wait until Open Enrollment to enroll in an individual health insurance policy for 2023.
If you do not qualify for an SEP, you will have to wait until Open Enrollment 2023 begins in fall 2022.
Confused? Call us and we will help! (855) 607-1323, or visit https://www.hospitality-health.com/cra.
Free National Restaurant Association Pharmacy Discount Card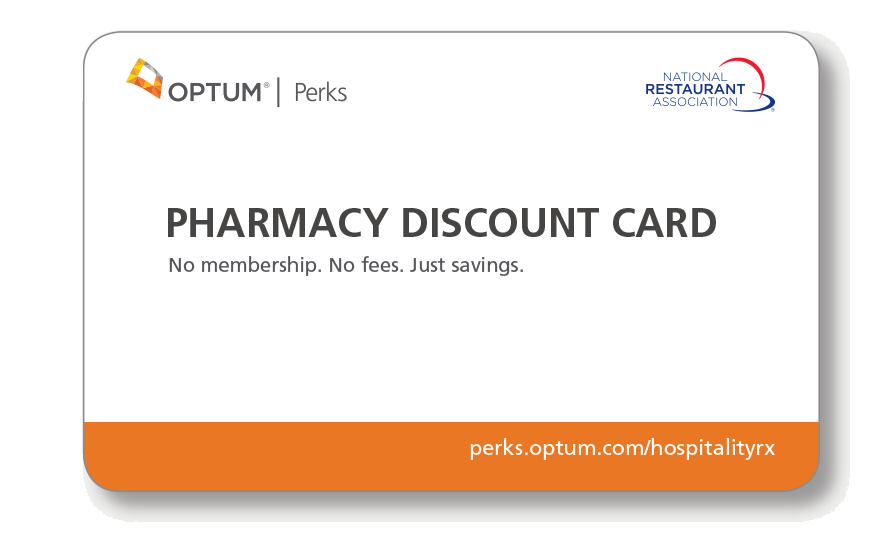 This free pharmacy discount card helps employees save up to 75% (average savings of 40%) on all FDA-approved prescription medications.
Accepted at more than 62,000 pharmacies nationwide.
Cards are pre-activated and easy to use; privacy is protected.
There are no costs for using this card.
Each time a card is used, the National Restaurant Association Educational Foundation and its state partners receive a portion of the proceeds.
Administered through OptumRx®. This discount card program is not insurance.
Download your free card today at: https://perks.optum.com/hospitalityrx
More Resources from Healthy Hospitality

Mental Health

Helplines
For more information, please contact the Sara Bray at sbray@restaurant.org.
[LEGAL DISCLAIMERS]
Some restrictions and exclusions apply. Discounts are available only to members of the National Restaurant Association and its state restaurant association partners; and may vary by location and group size.
Insurance coverage provided by or through UnitedHealthcare Insurance Company, UnitedHealthcare Insurance Company of Illinois, Inc. or their affiliates. Administrative services provided by United HealthCare Services, Inc. or their affiliates. Health Plan coverage provided by or through UnitedHealthcare of California, Inc.
Investments are not FDIC insured, are not guaranteed by Optum Bank®, and may lose value.