Tips defined and guidelines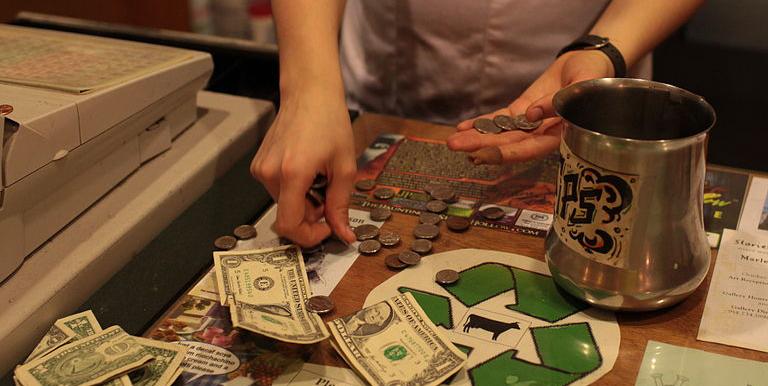 On June 20, 2012, the Internal Revenue Service (IRS) issued Revenue Ruling 2012-18 to clarify and update existing guidelines on taxation issues affecting the hospitality industry. In particular, the ruling helped clarify the distinction between tips and service charges:
According to a previous ruling promulgated by the IRS (Rev. Rul. 59-252) and further clarified in Rev. Rul. 2012-18, a tip is narrowly defined as: (i) an amount of money presented by a guest free from compulsion; (ii) a payment that the customer has the unrestricted right to determine the amount of; (iii) a payment whose amount cannot be the subject of negotiation or dictated by employer policy; and (iv) generally, a payment in which the customer can dictate and determine the recipient. With these four factors present, what the customer leaves is a tip and should be treated as such for tax purposes.
Although the ruling took effect immediately, the IRS understood some businesses may need to make significant changes to their automated or manual tip reporting systems in order to comply, so it provided that, in specified limited circumstances, the distinction could be applied by regulators beginning January 1, 2014. That date has now come and gone, so there is no doubt that all employers must be fully aware of the implications of the ruling.
First let us think about how tips affect a company from a tax and reporting perspective. Starting in 1994, many restaurants have benefited from being allowed to apply a general business credit toward a portion of the employer's Social Security and Medicare taxes paid with respect to their employees' cash tip earnings (IRC 45 B). However, this only applies to actual tips which as set forth above are additional payments made by a customer where the customer has the discretion as to the amount it wants to give an employee and is not mandated by an employer. Generally, the burden of reporting tips falls on the employee. Employees that receive more than $20 in cash tips (cash, debit/credit cards) per month are required to report the tips to their employers by the 10th day of each month. The employer is then required to withhold FICA taxes, similar to non-tip wages. An employer is not liable for their share of FICA taxes if the employee fails to report tips.
How do you ensure a tip is really a tip?
To ensure a tip is not actually a service charge according the IRS, make sure the tip line and total amount on any bill is left blank for the customer to complete in his or her discretion. While a restaurant may include sample calculations on the bill of different tip amounts (e.g., 15% = X), these must be clearly identified for reference purposes only so the IRS does not determine a certain amount is being mandated from the customer. For example, where a restaurant provides a customer a receipt with recommended tipping amounts i.e.. 15%, 18% and 20%, the IRS does not classify the amount left as wages because the customer has a choice to determine the amount, is free from compulsion and determines the amount of the gratuity, if any, left. Therefore, this situation would support a finding that this is truly a tip and not considered wages. In summary, a bill with sample calculations of different tip amounts, where the actual tip line is left blank, is truly a tip.
Why does it matter whether a payment is a tip versus a service charge?
Service charges are considered wages, and, therefore, not eligible for the FICA Tip Credit (The 45B Credit). For many years, restaurants have benefited from being allowed to apply a general business credit toward a portion of the employer's social security and Medicare taxes paid on tips in excess of the federal minimum wage as of Jan. 1, 2007 (i.e., $5.15 per hour).
As the ruling makes clear that service charges are not tips, they cannot be included in the tip amount that social security and Medicare taxes are paid on, which takes some tax credit off the table for restaurants. This credit is claimed on Form(s) 8846 and 3800.
Tips and wages are reported on separate lines of the quarterly payroll tax return (Form 941). Incorrectly characterized service charges should be re-characterized and an adjustment made to Form 941 via tax report Form(s) 4666 and 4668.
When completing Form 8027 (Employer's Annual Information Return of Tip Income and Allocated Tips), the restaurant must be sure only to include tip income and not include any income that would be characterized as a service charge.
Restaurants should make sure their automated or manual reporting systems.
A Brief Word on Tip Pooling
Many restaurants have instituted a tip pool in an effort to allow a fair distribution of the tips received between all of the non-management employees. The federal law on tip pooling adopts standards which are protective of employees' right to tips.
The Fair Labor Standards Act (FLSA) permits employer-mandated tip pools among employees who "customarily and regularly" receive tips such as waiters, waitresses, bellhops, bussers, hosts and service bartenders. The FLSA forbids any arrangement where any part of the tip received becomes the property of the employer. A tip is the sole property of the tipped employee or employees appropriately participating in the tip pool.
The Department of Labor (DOL) also mandates that the pooling arrangement must be "customary and reasonable" and cannot require an employee to contribute a greater percentage of their tips other than what is customary and reasonable.
Pooling tips for redistribution is not required, nor is a written agreement or policy required to allow a tip pool.
California has its own definition of who can participate in tip pools. California's Department of Labor Standards Enforcement issued an opinion regarding tip pools stated that employees eligible to participate in a tip pool included anyone who contributes to the "chain of service bargained for by the patron, pursuant to industry custom." This opinion letter described the "chain of service" to include bussers, bartenders, hostesses, wine stewards and front-room chefs (e.g., chefs at a sushi bar or who prepare food at the patron's table) and has been interpreted to include back of the house employees such as cooks, dishwashers, etc because the industry practice is that the entire team contributes to the chain of service. The opinion reaffirmed that no employer or agent with the authority to hire or discharge any employee or supervise, direct, or control the acts of employees may collect, take, or receive any part of the gratuities intended for the employees as their own. In other words, despite any tip pool container as is often seen at coffee shops, the owner(s), manager(s), or supervisor(s) of the business cannot participate in the tip pool, even if these individuals provide direct table service to a patron. California's Labor Commissioner has not rescinded this position which accepts restaurant industry standard to include back of the house employees as allowable in a mandatory tip pool.
However, the Department of Labor ("DOL") has consistently taken the position that employees who do not provide direct service to the customer are not allowed to participate in a tip pool. This would mean that kitchen staff who do not have direct service contact would not be viewed as being valid participants to share in a tip pooling arrangement and in 2011 issued new regulations to try and mandate this issue.
This position was successfully challenged initially through the courts. In 2016, a heavily divided Ninth Circuit Court of Appeals (which covers the states of California, Nevada, Oregon, Washington, Arizona, Alaska, Idaho, Montana and Hawaii) ignored its prior precedent without overturning it and found the new regulations issued to be valid. The Fourth Circuit Court of Appeals ruled that the Federal Department of Labor regulations were not enforceable. As a result, there is a split in the circuit courts of appeals and the matter has been appealed to the U.S. Supreme Court which includes briefs by the Wynn organization, the National Restaurant Association, the National Federation of Independent Business and other hospitality groups. The U.S. Supreme Court has yet to decide if it will take this appeal and resolve the circuit split. Therefore, who can share in tip pools is an unsettled question in California. For more information on tip pooling, you should read the California Restaurant Association's Industry Insight for additional, more detailed guidance.
How does a restaurant make sure it properly classifies a tip. Here are some suggestions:
Indicate a "suggested gratuity" on the customer's receipt but do not add it to the total on the receipt allowing the customer to designate the gratuity voluntarily
Maintain a blank line on the receipt so the customer has to write down what he/she wants to leave to the staff
Eliminate all service charges and automatic gratuities
Consult with your tax advisor or attorney to determine the proper method of taxing service charges and paying your employees

This report was reviewed and updated in 2017 by Wilson Elser Moskowitz Edelman & Dicker LLP. Wilson Elser Moskowitz Edelman & Dicker LLP provides this information for general informational purposes only. The information is not, and should not be relied upon or regarded as, legal advice. No one should act or refrain from acting on the basis of such content or information, without first consulting with and engaging a qualified, licensed attorney, authorized to practice law in such person's particular jurisdiction, concerning the particular facts and circumstances of the matter at issue.