Ask the Expert Q&A with the NRA
Sponsored by UnitedHealthcare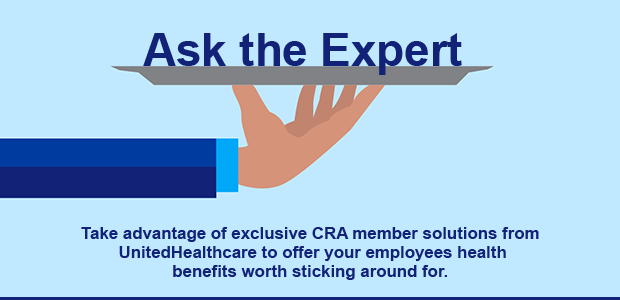 Question: Am I required to offer health benefits to my employees?
Answer: If you're an employer with more than 50 full-time-equivalent (FTE) employees, you are required to offer what's called "minimum essential coverage" to your full-time employees and their dependents or face potential penalties under the Affordable Care Act. A full-time employee is one who averages at least 30 hours of service a week in any given month, or the equivalent of 130 hours in a calendar month. And although you are not required to offer benefits to part-time employees, their hours (and those of seasonal employees) are included in the calculation to determine whether you meet the 50-FTE threshold that triggers the employer mandate (potential penalty).
Clinton is available to answer your questions regarding health care, benefit options, policy, and compliance. We have also featured some of the most Frequently Asked Questions on health care from the industry.
Take advantage of this new resource, and Ask the Expert your questions today.
For more information, register for the Strategies To Reduce Healthcare Costs Ahead Of Open Enrollment And The New CA Individual Mandate Webinar on 11/5/19 at 9am PST.