Keep your eyes peeled! The FDA will be dishing out federal menu labeling laws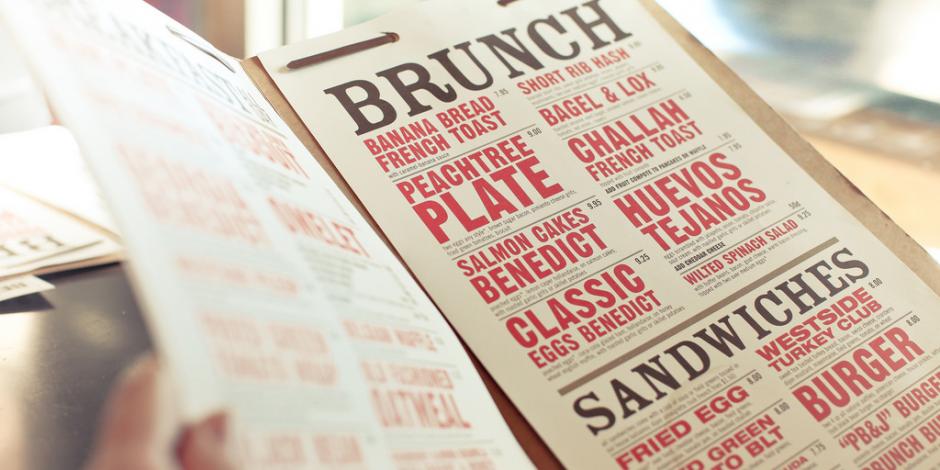 On May 7, 2017 CRA received official communication from the California Department of Public Health, formally stating that California will follow new federal guidelines on menu labeling, delaying enforcement of labeling requirements until May 7, 2018.
Please note this language: "CDPH is recommending that local enforcement agencies use this extended time period to work with and educate restaurants and other food facilities to come into compliance."
​If you have any questions, please call the CRA Help Line at 800.765.4842 x2743 or email helpline@calrest.org.
I. Background
In 2010, the Affordable Care Act amended Section 403 of the Federal Food, Drug, and Cosmetic Act of 1938 to establish a nationwide standard for menu labeling. The federal Menu Labeling Provisions of Section 4205 required certain chain restaurants and other "covered establishments" that are part of a chain with 20 or more locations to provide calorie and other nutrition information for menu items. The FDA issued final regulations implementing those "menu labeling" requirements in 2014, and set a compliance date of December 1, 2015. Since then, the compliance date was postponed as the FDA dealt with concerns from the restaurant industry.
On May 5, 2016, the Food and Drug Administration released its final guidance for industry compliance with federal menu labeling laws. The guide is titled "A Labeling Guide for Restaurants and Retail Establishments Selling Away-From-Home Foods – Part II (Menu Labeling Requirements in Accordance with 21 CFR 101.11): Guidance for Industry." The final guidance is intended to provide clarity on the menu labeling regulations the FDA released in 2014 and addresses topics such as covered establishments, alcoholic beverages, catered events, mobile vendors, grab-and-go items, and record keeping requirements. The FDA also announced that the new enforcement date for the Menu Labeling "Final Rule" is May 5, 2017 May 7, 2018.
II. The Guidelines
A. Covered Establishments
The final guidance explains what kinds of establishments are covered by the regulations and lists specific examples of covered and non-covered establishments. A covered establishment is a restaurant or similar foodservice business with 20 or more locations nationwide operating under the same name and serving substantially the same menu items. This includes concession stands in movies and theme parks, bakeries, convenience stores, food takeout or delivery establishments, and superstores. However, food trucks and mobile vendors walking around at stadiums are not covered establishments because they do not have a fixed location or site.
B. Menus and Menu Boards
Determining whether a writing is a menu or menu board is important since the final guidance states that covered establishments must provide calorie counts on menus and menu boards. Before, there was confusion whether writings were marketing materials or menus subject to the menu labeling requirements. In the final guidance, the FDA provides different factors for a menu or menu board, such as whether the writing lists the name of the menu item, whether the price is listed, whether it is used by the customer to make an order, and whether the phone number, web address, or email address of the established is listed for purposes of placing an order. Therefore, a pizza coupon with the menu item, price and web address to place the order is a considered a menu. This is more expansive than previous guidelines, which had not listed web addresses as a factor.
The final guidance also explains the formatting required for menus and menu boards. First, they must include the statement "2,000 calories a day is used for general nutrition advice, but calorie needs vary". Covered establishments must also provide written nutritional information by customer request. The nutritional information may be provided apart from the menu and displayed on a counter card, sign, poster, handout, booklet, loose-leaf binder, menu electronic device or by other similar means. Also, calories must be showed in larger, bolder type and the Service Size statement must be more prominent for Nutrition Facts labels.
One difference in the final guidance is that the FDA did not give a specific amount of variance or error that is allowed in stating the nutritional information, but instead broadly stated that the information must have a "reasonable basis." Nutrient values, as per 21 CFR 101.11 (c), can be determined by nutrient databases, laboratory analysis, published cookbooks with nutritional information for the recipes, or by other reasonable means.
Further guidance was also provided on how to determine nutrient values for restaurant-type foods. Daily values for nutrients like Sodium, Dietary Fiber, and Vitamin D were revised. Calories from Fat were removed and Vitamins A and C are now voluntary nutrients. Nutrients that were added as mandatory label nutrients are Vitamin D, Potassium, and Added Sugar. The serving size information also changed such that a "dual column" label will need to be provided for products that are larger than a single serving but could be consumed in one sitting, such as a bag of chips.
Another difference between the final guidance and previous statements involves variable ingredients in the same menu item. Previously, the FDA had stated that menu items must have individual calorie disclosures for each variable ingredient. In the final guidance, the FDA says that a range of calories for the menu item is now allowed. One example would be a grilled cheese sandwich that comes with cheddar or Swiss cheese. Before, the calorie statements for each cheese had to be listed separately on the menu. Now, a range of calories for the grilled cheese is acceptable.
C. Catered Events and Catering Menus
The FDA noted that a catered event is likely not a covered establishment because it does not offer for sale standard menu items. This means that customers who purchase items from a catering menu for their catered event would not have to provide calorie or other nutritional information to the guests of the catered event. However, if a covered establishment offers off-site catering, it must provide calorie information for standard menu items listed on their catering menus.
D. Alcoholic Beverages
While alcohol must still be labeled, the final guidance provided more detailed instructions for alcoholic beverages. Before, it was unclear whether beer on tap needed to have calories labeled on the tap handles. The FDA clarified that beers on tap are exempt from the labeling requirements because they are "food on display" and not self-serve. Even if a menu or menu board lists the calories for beers, they do not have to be listed on or next to the tap or nozzle. The FDA also addressed the issue of suggested alcoholic beverage pairings. The final guidance states that the calories for suggested alcoholic beverage pairings do not have to be labeled on the menu if the pairing item is not for sale.
E. Record Keeping Requirements
The final guidance indicates that records requested by a health official must be provided in four to six weeks. The FDA recommends that these records should be maintained at the covered establishment or the corporate headquarters for the time that the menu item is offered for sale. It is no longer necessary to maintain records on nutrient values for foods that are no longer offered for sale at a covered establishment. However, the FDA adds that covered establishments should consult legal counsel concerning maintaining the information in accordance with its ordinary record retention policies.
III. California Menu Labeling Law
California has had its own menu labeling law since 2009, which applied to restaurants with 20 or more locations within California. However, effective December 1, 2016, California restaurants must conform to the existing FDA menu labeling regulations promulgated under Affordable Care Act. See California Health and Safety Code Section 114094. This means local environmental health agencies may begin enforcement of the menu labeling requirements in California for qualified restaurants and similar food businesses before the federal enforcement date of May 5, 2017 May 7, 2018.
To comply with the California requirements (which are identical to the federal requirements), covered California establishments must include the caloric content adjacent to the menu items on their menus, menu boards, and drive-through menu boards. Additionally, the establishment must provide expanded additional nutritional information in writing upon request. The additional written information must include the number of calories, calories from fat, total fat, saturated fat, trans fat, cholesterol, sodium, total carbs, sugars, dietary fibers, and protein.
IV. Penalties
The consequences of failing to label a standard menu item offered for sale in a covered establishment is deemed "misbranded" under the Federal Food, Drug, and Cosmetic Act where its label or labeling is not in conformity with Menu Labeling Requirements.
Penalties for misbranding food are established in the Federal Food, Drug, and Cosmetic Act, and violations of 21 CFR 101.11 may result in enforcement action. For example, introducing, delivering for introduction, or receiving a misbranded food in interstate commerce, or misbranding a food while it is in interstate commerce or being held for sale after shipment in interstate commerce, are prohibited acts under section 301 of the FD&C Act (21 U.S.C. 331). Consequently, misdemeanor penalties can be assessed for any violation of Section 331 (imprisonment for not more than one year or a fine of not more than $1,000 or both). If any such violation, however, constitutes a second conviction or is found to have been committed "with the intent to defraud or mislead," the violation becomes a felony carrying a three-year maximum period of imprisonment and a fine of not more than $10,000 or both.
In addition, under section 302 of the FD&C Act (21 U.S.C. 332), the United States can bring a civil action in Federal court to enjoin a person who commits a prohibited action. Under section 304(a)(1) of the FD&C Act (21 U.S.C. 334(a)(1)), a food that is misbranded when introduced into or while in interstate commerce or while held for sale after shipment in interstate commerce may be seized by order of a Federal court. 18 U.S.C. 3571 overrides the maximum FDCA fines and establishes limits of $100,000 for most misdemeanors and $250,000 for most felonies in the case of individual defendants.
V. Conclusion
The final guidance document, while mostly similar to the draft that was published in September 2015, provides detailed explanations on a variety of subjects and answers to specific scenarios that may not have been clear before. The FDA issued a statement that it is committed to working with covered establishments and to providing assistance for regulatory partners to support compliance nationwide. Establishments can submit written comments on the final guidance at http://www.regulations.gov (Docket No. FDA– 2011–F–0172) and can send questions on menu labeling requirements to CalorieLabeling@fda.hhs.gov.
​​

This report was reviewed for legal accuracy and updated in 2017 by Kaufman Dolowich & Voluck, LLP.