Restaurant Relief
Federal - State - Local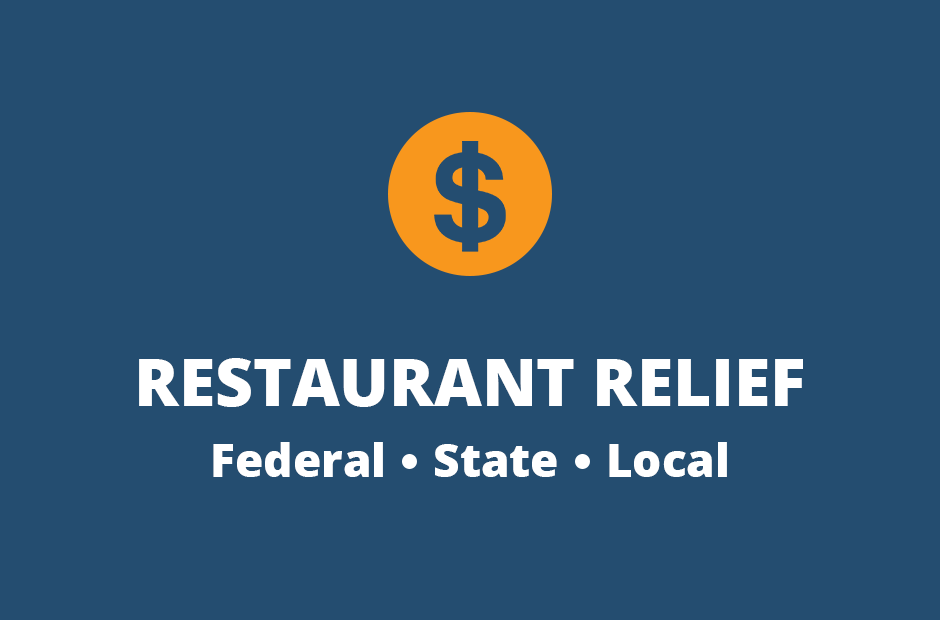 State Relief The CARES Act & SBA Loans
CRA's Small Business Printable List of Resources
State Relief
Regulatory Relief: ABC Tax Deferrals The WARN Act
The CRA's requests of the governor and state lawmakers: See the CRA's letter.
Relief from the Department of Alcoholic Beverage Control
The CRA has been working with local governments to help expand outdoor spaces for dining, and simultaneously working with the Department of Alcoholic Beverage Control (ABC) to allow you to serve beer, wine, and cocktails with food in these settings.
ABC has now created a new pathway called "temporary catering authorization", which will allow approved restaurants to serve alcohol in outdoor dining spaces.
This work will help accommodate physical distancing, allow for greater guest capacity, and hopefully provide you with more flexibility.
For more detail, please see the following:
Sales of Alcoholic Beverages To Go
The CRA is grateful to the ABC, which had earlier suspended enforcement on several restrictions related to sales of alcoholic beverages for off-premise consumption. This means that certain alcohol licenses have the ability to sell beer, wine, and pre-mixed drinks or cocktails for pick-up or delivery.
This is a temporary suspension in enforcement, but ABC has extended it beyond its original time period because so many of the state's restaurants are continuing to try to prioritize delivery and takeout.
The regulatory relief comes with restrictions, including:
Drinks must be solid with food
Drinks must have a secure lid or cap
There should be no straw holes in the lid
Restaurants must post specific signage for guests, indicating that their take-away alcohol can be transported by car only in the trunk. If the vehicle has no trunk, then the container may be kept in some other area of the vehicle that is not normally occupied by the driver or passengers.
Additionally, the current ban on manufacturers, wholesalers, and other suppliers extending credit to retailers beyond 30 days has been relaxed and the associated legally-required penalty charges will not be enforced.
ABC Notice of Regulatory Relief
ABC Frequently Asked Questions
ABC Template for Notice to be Posted
Tax Deferrals
Tax Returns, Payments and Refunds
As a direct result of the California Restaurant Association's ongoing work with the office of Gov. Gavin Newsom, the governor issued an executive order that allows a 90-day extension for tax returns and tax payments for all businesses filing a return for less than $1 million in taxes. That means small businesses will have until the end of July to file their first-quarter returns. The order, which is linked here, also extends the statute of limitations to file a claim for a refund by 60 days.
For taxpayers who have a return or payment of more than $1 million, the California Department of Tax and Fee Administration may be able to grant relief. The CDTFA has the authority to assist businesses and individuals who have been impacted by the economic consequence of complying with a state or local public health measure related to COVID-19. You can request extension and relief from interest and penalties using the CDTFA's online services, by email, by phone, or in writing.
California State Tax Relief for Individuals and Businesses
More information from the CDTFA
State Payroll Taxes
Employers experiencing a hardship as a result of COVID-19 may request up to a 60-day extension from the Employment Development Department to file state payroll reports and/or deposit state payroll taxes without penalty or interest. A written request for extension must be received within 60 days from the original delinquent date of the payment or return. Read more from EDD, here.
The WARN Act
Governor Newsom issued an executive order in March, partially suspending the WARN Act. The WARN Act requires that extended notice of a layoff be given to workers in advance. A suspension of these requirements is important to employers who were unable to give employees advance notice of a layoff when the state or local government shut down restaurants dining rooms.
The governor's executive order
Guidance from the California Labor and Workforce Development Agency
Background and details on the WARN Act
---
The CARES Act & SBA Loans
When Congress passed the CARES Act, the intent was to help small businesses weather the overwhelming economic impact that the coronavirus is having on their survival and the lives of their employees. In addition to tax relief, the law created new loan programs administered by the US Small Business Administration, but accessing some of this help has proven frustrating for countless business owners all over the country. The situation evolves daily and, while the process is managed by the federal government and banks, the CRA will continue to provide you all the latest information and resources here and by email. That includes access to webinars hosted by bankers, attorneys, and other experts.
If you're not already receiving our emails, click here to be added.
SBA Loans
Paycheck Protection Program
One key provision of the CARES Act is the Paycheck Protection Program (PPP.) This measure initially created a $349 billion program for the Small Business Administration to offer unique loans to small businesses (500 or fewer employees.) The PPP later received an additional $310 billion for loans after the program quickly awarded its initial allocation of dollars and run out of funds.
Thanks to successful advocacy by the National Restaurant Association, badly-needed changes are being pushed now to the PPP, including an extension to the period restaurants can use to spend the federal loans, and an extension to the date that restaurants can bring their employees back to work. The loan is forgiven if used for payroll costs and there will soon be some needed flexibility as to how the dollars can be spent. Much more information is available here, from the National Restaurant Association, and here, from the US Small Business Administration. CRA members should look for important emails highlighting any changes made by Congress that the US Senate agrees to.
Printable Information Sheet for Borrowers
Paycheck Protection Program Loan Forgiveness Application
Economic Injury Disaster Loans Emergency Advance (EIDL)
This program adds coronavirus to the list of events eligible for disaster relief. Small businesses with fewer than 500 employees and non-profit organizations or 501(c)(19) veterans organizations impacted by COVID-19 eligible to apply for loans of up to $10,000. In some industries, businesses may qualify even with more than 500 employees. The funds will be made available within days of a successful loan application and will not have to be repaid. More information is available here, from the SBA.
Small Business Debt Relief
This allows small businesses with certain outstanding SBA loans to have all principal and interest covered for six months. Qualifying loans are outstanding SBA 7(a) loans, 504, and microloans and new 7(a) loans, 504, and microloans issued before September 27, 2020. Read more here.
SBA Express Bridge Loans
This loan program allows small businesses who currently have a relationship with an SBA Express Lender to access up to $25,000 quickly. This loan can help bridge the gap while applying for a direct Economic Injury Disaster Loan (EIDL.) The loan can be repaid in full or in part by proceeds from the EIDL. More information is available here.
Federal Tax Relief
Qualified Improvement Property (QIP)
Businesses will be able to immediately write off costs associated with improving facilities instead of having to depreciate those improvements over the 39-year life of the building. This corrects the error in the Tax Cuts and Jobs Act and increases a business' access to cash flow by allowing them to amend a prior year return, while incentivizing investment.
Employee Retention Tax Credit
The employee retention tax credit (ERTC) is for employers subject to closure due to coronavirus. The provision provides a refundable payroll tax credit for 50% of wages paid by employers to employees during the crisis. The credit is available to employers whose
Operations were fully or partially suspended, due to a coronavirus-related shut-down order, or
Gross receipts declined by more than 50% when compared to the same quarter in the prior year.
For employers with greater than 100 full-time employees, qualified wages are wages paid to employees when they are not providing services due to the coronavirus-related circumstances described above. For eligible employers with 100 or fewer full-time employees, all employee wages qualify for the credit, whether the employer is open for business or subject to a shut-down order. The credit is provided for the first $10,000 of compensation, including health benefits, paid to an eligible employee. The credit is provided for wages paid or incurred from March 13, 2020 through December 31, 2020.
More information about the Employee Retention Credit is available here, from the IRS.
Modifications for Net Operating Losses (NOLs)
The provision relaxes limitations on a company's use of losses from prior years. NOLs are currently subject to a taxable income limitation, and they cannot be carried back to reduce income in a prior tax year. This provision provides that a loss from 2018, 2019, or 2020 can be carried back five years. It also temporarily removes the taxable income limitation to allow an NOL to fully offset income.
Delay of Payment of Employer Payroll Taxes
Employers can defer payment of the employer share of the Social Security tax. The deferred employment tax can be paid over the following two years, with half of the amount required to be paid by December 31, 2021 and the other half by December 31, 2022.
Additional Tax Relief
The tax filing deadline has been extended from April 15 to July 15. Businesses and individuals can postpone estimated tax payments due from the date of enactment until October 15, 2020 with no cap on the amount of payment postponed. This relief includes the following modifications:
Modification of limitation on losses for taxpayers other than corporations
Modification of credit for prior year minimum tax liability of corporations
Modification of limitation on business interest
Other Helpful Resources
---
Compliance: Federal Regulations
Families First Coronavirus Response Act (FFCRA)
The Families First Coronavirus Response Act (FFCRA) mandated new paid sick leave requirements for employers with 500 or fewer employees. This extended, paid sick leave, is in addition to other sick leave available to workers through California law and local laws; it is available to those employees who have been exposed to COVID-19. The FFCRA makes a 100% reimbursement available to employers for the cost of the paid sick leave; that reimbursement is in the form of a tax credit. It allows businesses with fewer than 50 employees to seek a waiver from the obligation. Employers should keep in mind that the state of California, along with some California cities, have adopted similar requirements to apply to employers with more than 500 employees. For more information about your new sick leave obligations under state and local law.
The FFCRA took effect on April 1.
Helpful Resources
From CRA Legal Partner Anthony Zaller:
From CRA Legal Partner Fisher Phillips:
From CRA Legal Partner Anthony Zaller: