Disabilities: Employees with disabilities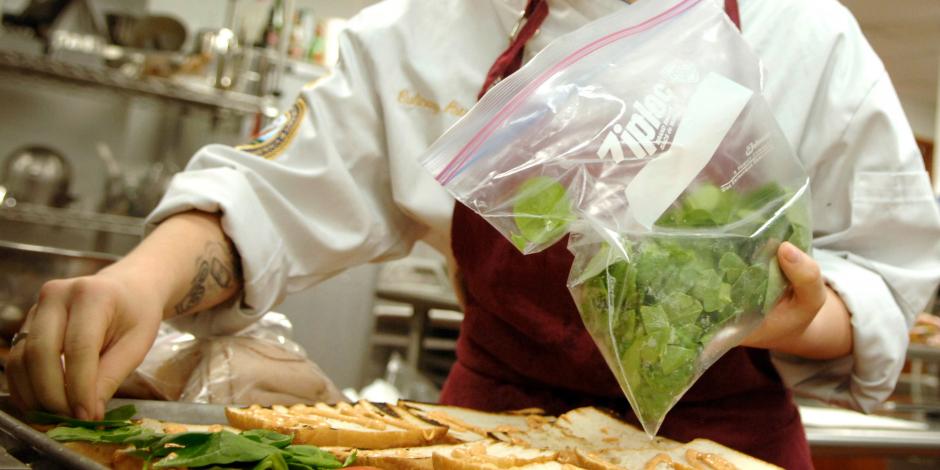 Introduction
When addressing the needs of applicants or employees with disabilities, California employers must be careful to comply with two laws: (1) the federal Americans with Disabilities Act (ADA); and (2) the disability provisions of the California Fair Employment and Housing Act (FEHA). This report is intended to provide restaurant employers with a general overview of tips to ensure compliance with these laws. Because decisions relating to accommodation of disabilities are fact-intensive and must be made on a case-by-case basis, employers may not find every specific answer they need for their operation in these pages. In such instances, the CRA recommends that you consult legal counsel or seek the advice of designated specialty experts. See the Resources section below.
Which employers are covered?
The ADA applies to all employers with 15 or more employees. The FEHA applies to employers with five or more employees. Part-time employees are included in determining whether an employer has the requisite number of employees to trigger coverage under these laws.
Who is disabled?
The key to compliance with the ADA and related FEHA provisions is to understand who is considered disabled. Under the ADA, disabled persons are those who have physical or mental impairments that substantially limit their ability to perform one or more major life activities, such as breathing, walking, working, seeing, hearing, performing manual tasks, caring for oneself, etc. In California, the definition of disability is much broader. People are considered disabled if they are limited in any way in performing a major life activity – they do not have to be substantially limited. People also are considered disabled if they have a history of such an impairment, such as a history of mental illness, or if they are regarded as having such an impairment, someone who is assumed to be disabled even if the assumption turns out to be wrong.

When evaluating whether a California employee is limited in performing a major life activity, the employer must base that evaluation on the employee's condition without taking into account the employee's use of corrective medication or other corrective medical devices, such as glasses, prosthetics, etc. Because of California's broad definition of disability, it is important for employers to understand that a large majority of California employees would likely qualify as disabled under state law, even though they would not be considered disabled under the ADA.

In general, any time an employee presents medical documentation of a need to be off of work, even if only for a few days, there is a reasonable chance that the employee will be considered "disabled" thereby invoking the protections of FEHA.
What the laws require
The ADA and FEHA prohibit employers from discriminating against a "qualified individual with a disability" in regard to job applications, hiring, advancement, discharge, compensation, training, or other terms, conditions, or privileges of employment. Employers are required to make "reasonable accommodations" to the known physical or mental limitations of an otherwise qualified individual with a disability to perform the "essential functions" of a job unless doing so would impose an "undue hardship" on the employer or if the person poses a "direct threat" to the health and safety of himself or others. The ADA and FEHA also prohibit discrimination against individuals who are related to or associated with disabled individuals because of that relationship or disability.
Key terms
Qualified individual with a disability: Someone who, with or without reasonable accommodation, can perform the essential elements of the employee's job. To be a qualified individual, one must meet the necessary training, experience, skill, education, required licenses, or other requirements for the job in question.

As discussed above, under federal law, an individual has a disability if he or she has a physical or mental impairment that substantially limits one or more of the employee's life activities. In California, the definition is interpreted much more broadly. People are considered disabled if they are limited in any way in performing a major life activity and do not have to be substantially limited.

Employers must remember that even if the employee or applicant turns out not to have a limitation of a major life activity, they are protected by these disability discrimination laws if they have a history of such a limitation, or even if they are perceived incorrectly to have such a condition.

Essential functions: Functions that are a regular part of the job, functions whose removal would fundamentally alter that position and functions that are not readily allocable to other employees. For example, operating a cash register would likely be an essential function for an entry-level quickservice restaurant employee. In the eyes of the law, a qualified individual need only perform essential functions of the job, not marginal functions.

Reasonable accommodations: Any aids that would help a disabled person perform the essential functions of a job. Determining what constitutes a reasonable accommodation largely depends on the particular circumstances, but reasonable accommodations could include modifying tools or facilities, such as purchasing a wheeled cart for a server who has a lifting restriction, restructuring the job so that another employee can perform some of the non-essential duties, transferring the employee to another available position better suited for his or her limitations or granting a temporary or extended leave of absence. What is reasonable for an employer is determined by, among other things, the employer's size and financial resources. For example, a unit of a large quickservice chain may be required to go further in accommodating a disabled worker than a small independent restaurant. These determinations are made on a case-by-case basis.

An accommodation poses an undue hardship if it is too costly, extensive, substantial or disruptive, or if it fundamentally alters the nature or operation of a business. For example, a would-be cocktail waitress with poor vision could not compel a nightclub to switch to bright lighting, because that change would fundamentally alter that business. A business could not claim that a costly accommodation is an undue hardship if the payment for the accommodation came from another source, such as a foundation for the disabled. Employers must understand that they bear the burden of proving that a particular accommodation would be an undue hardship. This can be very difficult to prove.

If no reasonable accommodation can eliminate or mitigate a direct threat to the health or safety of others, an employer can refuse to hire the person, or for an existing employee, may remove the employee from the position. However, the employer must concretely establish what behavior or aspect of the disability poses the threat and weigh how likely and how great the danger is. The burden of proof is on the employer; the individual does not have to prove that he is not a threat. The law stresses that there must be a "high probability of substantial harm" and this must be established by valid medical analysis or other objective evidence. Fears and stereotypes cannot enter into the decision.

Interactive process: Dialogue that takes place between the employer and the employee or applicant who may need a reasonable accommodation. An employer is obligated to engage in a good-faith interactive process with the employee to consider potential accommodations, including whether they would be effective at ameliorating the impact of the disability condition, and whether they would be reasonable, under the circumstances. The purpose of the interactive process is to determine what accommodation might be required. The requirement to engage in the interactive process is independent of the duty to make reasonable accommodations. In other words, an employer who fails to engage in a good-faith dialogue with the employee regarding potential accommodations may be found liable for damages even if, at the end of the analysis, no reasonable accommodation could have been identified.
How the process works
Recruitment: Employers must do their best to advertise and recruit job applicants in a way that does not screen out qualified disabled individuals. Although neither the ADA nor FEHA require employers to write job descriptions, such descriptions are a valuable tool because they help establish what the essential functions of a job are. The EEOC has said that it will give weight to an employer's determination of a job's essential functions.

In order to avoid boxing themselves in with job descriptions that may have become obsolete, employers should review all job descriptions regularly.

Interviews: Employers are not permitted to ask applicants about the existence, nature or severity of a disability. They can, however, ask applicants if they have any limitations that would prevent them from performing the essential functions of the job in question. Remember to focus on the specific tasks the job requires and the specific skills needed to perform those tasks. Employers can also ask applicants to describe or demonstrate how they would perform the essential functions of the job, with or without reasonable accommodation.

Employers are not required to hire a disabled person who is unqualified to perform the essential functions of a job, nor must they extend preferential treatment to the disabled. Thus, chains looking to hire a financial analyst may require an appropriate level of schooling and experience. Further, they do not have to lower job requirements to accommodate the disabled. For example, an operator probably can set a standard that bussers must be able to work a station with eight tables.

Medical examinations: Employers cannot administer medical examinations before an offer of employment is made. Employers can, however, make job offers contingent upon successful completion of a medical exam. If the exam reveals a disability, then the employer should work with the job candidate to see what reasonable accommodations could be made to help the candidate perform the essential functions of the job. Such examinations must be paid for by the employer and administered to all candidates for the position. Results from the exams must be kept confidential and maintained in separate medical files.

If the applicant says that he or she has a limitation with regard to an essential function of a job, then the employer must discuss with the applicant whether there is a reasonable accommodation that would enable the applicant to perform the job. Employers may not ask how an individual became disabled or what the prognosis is, nor may they ask how often the individual will require leave for treatment or use leave as a result of incapacitation caused by the disability. However, the employer may state attendance requirements of the job and inquire whether the applicant can meet them.

Testing: If an employer will require testing of applicants, the employer may ask on application forms if applicants will require a reasonable accommodation in order to take the test. Physical agility tests are not medical tests and are permitted so as long as they relate to the essential functions of the job.

Employers should not conduct testing in a format that requires individuals with disabilities to use impaired sensory, manual, or speaking skills unless the test is designed to measure those skills. Moreover, the ADA prohibits the use of any kind of qualification standard, employment test, or other criterion that even unintentionally screens out individuals with disabilities, unless the standard, test, or criterion is related to an essential job function and is consistent with business necessity.

Ongoing exams: After an employee is hired and begins working, all mandatory medical examinations and inquiries must be job-related and necessary for the conduct of the employer's business, and the employee must consent to the inquiry or exam.

Making reasonable accommodations: Employers have a duty to engage in an interactive process with a disabled employee to determine reasonable accommodations that would assist the employee in performing the essential functions of the job. Failure to engage in the interactive process may subject the employer to liability. The accommodation offered need not be the one specifically requested by the employee and need not be the "best" possible accommodation; however, it must be an effective accommodation. Examples of reasonable accommodations are discussed above. Employers may be required to purchase equipment that would help a qualified disabled person perform the essential functions of a job, but the employer need not purchase primarily personal items that would largely be used outside the workplace, such as eyeglasses, or a prosthetic limb. However, the employer cannot prohibit the individual from using these aids as long as they don't pose an undue hardship or a direct threat to health and safety, and the employer may not refuse them if they are provided by another source, such as a charity.

Employers may not impose accommodations on disabled employees that diminish the employee's status or opportunities for advancement.

An individual is not required to accept the reasonable accommodation offered by an employer, but may lose his or her qualified individual status if he or she can no longer perform the essential functions of the job because of that refusal. The individual may provide his or her own accommodation, but the employer cannot require him or her to do so.

NOTE: Employers should always document the interactive process between the employer and the disabled applicant or employee, including any offers of reasonable accommodation.

Direct threat" and food handling: The issue of direct threat may come into play where food-handling employees are involved. The U.S. Department of Health and Human Services has prepared a list of infectious and communicable diseases that are transmitted through the handling of food. If an individual with a disability has one of the listed diseases and works in or applies for a job in food handling, the employer must determine whether there is a reasonable accommodation that will eliminate the risk of transmitting the disease through the handling of food. If there is an accommodation that will not pose an undue hardship and that will prevent transmission, the employer must provide that accommodation to the individual. But, if no such reasonable accommodation is possible, the employer may refuse to assign that person to a job involving food handling or to hire that person for a food-handling job. If the individual is a current employee, the employer would be required to consider the accommodation of reassignment to a vacant position not involving food handling for which the individual is qualified.

As required by the ADA, the Centers for Disease Control and Prevention has published the following list (last updated 11.23.2009) of infectious and communicable diseases that are transmitted through food. The list is divided into two parts: pathogens often transmitted and pathogens occasionally transmitted through food by infected food employees.

Pathogens often transmitted by food contaminated by infected employees include: Noroviruses, Hepatitis A virus, Salmonella Typhi, Shigella species, Staphylococcus aureus and Streptococcus pyogenes.

Pathogens occasionally transmitted by food contaminated by infected employees include: Campylobacter jejuni, Cryptosporidium species, Entamoeba histolytica, Enterohemorrhagic Escherichia coli, Enterotoxigenic Escherichia coli, Giardia intestinalis, Non-typhoidal Salmonella, Taenia solium, Vibrio cholerae, Yersinia enterocolitica.

The symptoms listed in the Code – diarrhea, vomiting, open sores, fever and jaundice – cover the common symptoms experienced by persons suffering from the pathogens identified by the CDC as transmissible through food by infected employees. An employee suffering from any of the symptoms listed presents an increased risk of transmitting food-borne illness.

Lesions containing pus that may occur on a food employee's hands, as opposed to such wounds on other parts of the body, represent a direct threat for introducing Staphylococcus aureus into food. Consequently, a double barrier is required to cover hand and wrist lesions. Pustular lesions on the arms are less of a concern when usual food preparation practices are employed and, therefore, a single barrier is allowed. However, if the food preparation practices entail contact of the exposed portion of the arm with food, a barrier equivalent to that required for the hands and wrists would be necessitated. Lesions on other parts of the body need to be covered, but an impermeable bandage is not considered necessary for food safety purposes. Food employees should be aware that hands and fingers that contact pustular lesions on other parts of the body or with the mucous membrane of the nose also pose a direct threat for introducing Staphylococcus aureus into food.

The ADA lists AIDS and HIV infection as disabilities, but does not include them on the food-handler lists. The AIDS virus is a blood-borne or sexually transmitted disease – it is not transmitted through the handling of food. Therefore, employers cannot justify removing an employee with AIDS from handing food. However, because AIDS suppresses the immune system, leaving the patient prey to other, opportunistic infections, an AIDS patient could be ill with another disease that is spread through the handling of food. In that case, the employer should transfer the employee to another post until the danger of contagion is past.

Benefits: Employees with disabilities must be accorded equal access to whatever health insurance coverage the employer provides to other employees. Remember that the ADA and FEHA protect those who have an association with a disabled person. Thus, employers who provide health insurance benefits to employees for their dependents may not reduce the level of those benefits to an employee simply because that employee has a dependent with a disability, even if the provision of such benefits would result in increased health insurance costs for the employer.

Leave policies and benefit plans that are uniformly applied do not discriminate against the disabled even if the policies do not take into account the specific needs of a disabled employee. Thus, an employer can reduce the number of paid sick days or switch to a policy that offers less coverage company-wide, even though this will hit disabled employees harder. However, in order to make a reasonable accommodation of a disabled employee, employers may have to make exceptions to certain policies, such as policies prohibiting leave for the first six months of employment or policies placing limits on the length of leave that is allowed.

Posting requirements: Employers are required to post notices informing applicants and employees of the provisions of the ADA and FEHA. The notices are available in English and Spanish from the federal Equal Employment Opportunity Commission and California's Department of Fair Employment and Housing.

Penalties for violation of the laws: The laws provide for make-whole remedies, which can include hiring or reinstatement with or without back pay, emotional distress damages, and reasonable attorney's fees and costs. Punitive damages may also be awarded in certain circumstances. Simply put, employers who do not comply with the disability provisions of the FEHA and the ADA risk substantial liability.
Compliance tips
Develop a company policy that supports the hiring, promotion, and retention of qualified disabled persons, and articulate the policy to all employees.
Train all employees responsible for hiring in proper hiring and interviewing techniques. Establish a consistent process to ensure that requirements are met for each applicant, including ensuring that all applicants receive a conditional offer of employment before a medical examination is required.
Review all job applications and testing procedures to ensure that they do not discriminate against the disabled. For example, do your recruitment ads offer only a telephone number, which the deaf cannot call? Demand accountability for ADA/FEHA compliance from any employment agencies you use.
Review all jobs to determine essential functions and develop written job descriptions. Such descriptions may include job title, essential and marginal job functions and duties, physical and mental demands, attendance requirements, performance standards, training and experience requirements, job locations, and equipment used. Remember, written job descriptions will help protect you, but not if the descriptions fail to accurately reflect actual practices in your workplace and are enforced erratically. Take a realistic approach to whether a function is essential or marginal. Further, the descriptions should be prepared before the recruitment process begins.
Work with each disabled individual, both applicants and current employees, to identify reasonable accommodations and document this process.
Check the Resources section of this report to find assistance in making reasonable accommodations.
Don't play doctor; seek out expert medical advice when needed. It is usually a good idea to have the employee's doctor review the employee's job description and provide the employer with a description of the employee's limitations based on that job description.
While it is important to ensure compliance with disability protection laws, it is also important for employers to remember the potential for liability for "negligent hiring." Employers have been held liable for failing to investigate more fully individuals they hired who went on to harm others. Do your best to understand what risks, if any, a potential employee will present.
Resources
California Department of Rehabilitation: Assists individuals with disabilities in the work force. Employers can use this organization to find qualified individuals to fill vacant positions. Phone: (916) 263-8635, TTY: (916) 558-5320, www.rehab.cahwnet.gov
California Governor's Committee on Employment of People with Disabilities: Provides educational materials and referrals to employers to help employ the disabled. Phone: (916) 654-8055, TDD: (916) 654-9820, www.edd.cahwnet.gov
Equal Employment Opportunity Commission: The federal agency in charge of explaining and enforcing Title I, EEOC offers its 200-page Technical Assistance Manual on Employment Provisions (Title I) of the Americans with Disabilities Act and supplies or approves the poster that the law requires. Phone: (800) 669-4000, TDD: (800) 669-6820, www.eeoc.gov
Job Accommodation Network (JAN): A branch of the President's Committee on Employment of People with Disabilities, JAN provides free consulting services for employers looking for solutions to accommodating disabled individuals in the workplace and offers counseling with its technical experts. Phone: (800) 526-7234, TDD: (877) 781-9403, www.askjan.org
Social Service agencies in your area may have suggestions for ways to accommodate disabled employees and offer referrals.
Fine, Boggs & Perkins LLP is available to assist in providing preventative legal advice and litigation services to employers with questions or litigation relating to the disability laws. Phone: (650) 712-8908, www.employerlawyers.com
HotlinkHR Inc. is the CRA's endorsed provider of Human Resources services through a web-based automated system. HotlinkHR provides a Web-based application for employment, automated forced-process on-boarding and new hire documentation. HotlinkHR also provides ADA-compliant job descriptions and other HR services to restaurant owners and managers. www.hotlinkhrcrms.com.

This report was reviewed and updated in 2013 by Wilson Elser Moskowitz Edelman & Dicker LLP. Wilson Elser Moskowitz Edelman & Dicker LLP provides this information for general informational purposes only. The information is not, and should not be relied upon or regarded as, legal advice. No one should act or refrain from acting on the basis of such content or information, without first consulting with and engaging a qualified, licensed attorney, authorized to practice law in such person's particular jurisdiction, concerning the particular facts and circumstances of the matter at issue.